Cornhusker Council ScoutReach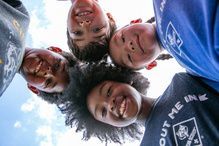 ---
What is ScoutReach?
Scoutreach is the Boy Scouts of America's commitment to making sure that all young people have an opportunity to join Scouting, regardless of their circumstances, neighborhood, or ethnic background.  The Scoutreach Program gives special leadership and emphasis to urban Scouting programs.
Scoutreach meets the developmental needs of youth in many neighborhoods considered at-risk within Lancaster and Otoe County.  This program emphasizing ethics and moral values, addresses many of the social concerns of parents and youth in our country. Scouts learn lessons about life, and the value of being a responsible person of character and integrity. These lessons come through spending significant time and sharing experiences with families, Scout leaders, and fellow Scouts.
How can you get involved?
---
Become a Leader!
After School Leaders are needed to deliver the program to each ScoutReach program. 
As a Scout leader you will be responsible for: 
Following a prepared lesson plan involving Scouting activities and lessons with an opportunity to design your own for each after school-club
Attend monthly meetings and training days
Arriving to each after school club in a timely manner
Qualifications: 
Comfortable working with youth
Be responsible and dependable
Have your their own Transportaion (some schools are on bus routes)
Available at least one day a week from between 2:45 and 5pm
Scouting experience is a plus, but not required. 
For more information, please contact Lee Peterson at lee.peterson@scouting.org