The thrill of our High Adventure Bases runs far and wide across America, and nobody in the world is better at sharing those experiences than the Scouts. Nobody.

Nobody offers more exhilarating or a wider variety of high adventure for young people than the Boy Scouts of America. Through high adventure experiences, The Boy Scouts of America leaves lasting memories with youth and fosters development in character and leadership.
Challenge yourself at BSA's High Adventure Bases. From the aquatic adventures of Florida Sea Base to the canoeing or winter camping challenge of Northern Tier , from the backpacking expeditions at Philmont Scout Ranch  to the adventure sports programs at The Summit Bechtel Reserve , these experiences will shape you and teach you about yourself. Will you answer the call?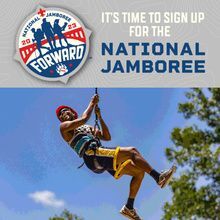 Sign up today for the National Jamboree 2023
National Jamboree is more than a destination. It's the adventure of lifetime. And there is simply nothing else like it on the planet.
What's a Jamboree? It's not camp. National Jamboree is 360-degrees of fun, friends and fellowship with hands-on adventure that takes you places you never thought you'd go and challenge you to try things you never thought you could.
It's the beginning of your own heroes' journey that will challenge you to go farther than you ever thought possible. You'll reach deeper and lift yourself higher to become the best version of yourself.
Step One: Everyone must go online to submit a new application specific to the 2023 Jamboree.  Click here to begin:  https://events.scouting.org/form/B5925B571FB44195/personal-information
Step Two: Once approved you will need to register with the Cornhusker Council Contingent here: http:// https://scoutingevent.com/324-58116
**Sign up before November 11,2022 to save on registration fees**