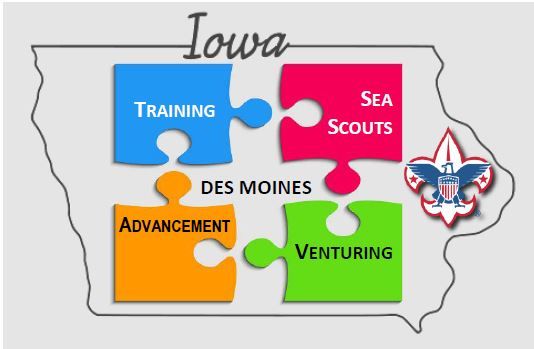 The Third Annual Central Region Program Symposium is being held in Des Moines, Iowa. The event is open to all adult Scouters, and includes program content focused on
• Training
• Advancement
• Venturing
• Sea Scouts

The day-long program includes presentations by Regional and National representatives. Registration
includes all course materials including your own copy of the personal development text, continental
breakfast, delicious lunch and, a great dinner.

Please reserve your place early, as registration will be limited to the
first 100 Scouters.

See you in Iowa at the Central Region Program Symposium on March 21st!
Click here for more information!
AGENDA

• Welcome: Kris Zahrobsky, Central Region VP Program
• What's New At Scouting U: Joel Eacker, Scouting U Vice-
Chairman/Learning Diversity
• Dinaz Kachhi-Jiwani, Diversity and Inclusion Strategy Specialist, Office
of Diversity, Boy Scouts of America National Office
• Personal Development Book Presentation: The New Breed.
o Understanding and Equipping the 21st Century Volunteer
• Central Region Training, Advancement, Venturing, and Sea Scout
presentations by Regional and National representatives
• SOAR program analysis
• Regional Strategic Planning
• Wood Badge Program Updates
• National Youth Leadership Training (NYLT)
• Speakers from the Central Region Executive Committee
• Fireside Chats with Regional and National representatives