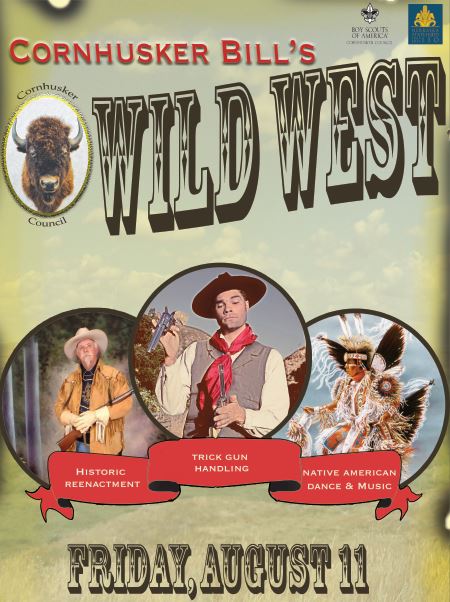 Cornhusker Council BSA to present "Cornhusker Bill's Wild West" featuring "Hollywood Gun Coach and World Champion Trick Gun Handler Joey Dillon" as part of entertainment offerings at Lancaster County Super Fair!
Cornhusker Bill's Wild West, is an all ages, family friendly show featuring Historical Reenactment Vignettes, Native American Dance and Trick Gun Handling, in the grand tradition of the Wild West Shows of yesteryear)
Lancaster Event Center, Amy countryman Pavilion, August 11, 2017 Shows at 1:30 and 6:30 PM (Bothe Shows will run approximately 1 ½ to 2 hours with intermission.)
This All Ages Show will transport you back to the thrilling days of yesteryear when the Wild West Shows of William "Buffalo Bill" Cody and Pawnee Bill where the top entertainment ticket playing all across the US and before the Crowned heads of Europe.
Headliner Joey Dillon is a multiple World Champion at the art of trick gun handling and is Hollywood's go to guy for training actors to look good with a gun on many recent films. Including; HBO's "Westworld," Coen Bros. "Hail Caesar," "Gangster Squad," "Looper," Netflix's "Godless," "Reach Me," "Jonah Hex," He has been seen on the History, Discovery, Biography, and Military Channels as well as Spike T.V. and a few others.
Terry Lane has portrayed Buffalo Bill Cody since 1998 and has been the official Nebraska State Buffalo Bill and the Nebraska Division of Travel and Tourism "Nebraska Bill" since 2001.
Also featuring: Garan Coons, a professional Native American (Oglala Lakota & Navajo) dancer, singer, flute player and storyteller, is the ultimate all around Native American entertainer.
Reserved Seating: $7, 2 & under free on lap, Proceeds to benefit the Boy Scouts of America Summer Camp facilities. Fair Entry and Parking fees will apply, to purchase advanced reserved tickets go to http://lancastereventcenter.org/super-fair-home
Don't miss this Official NE 150 event and celebrate Nebraska's Sesquicentennial while supporting the nation's foremost youth program of character development and values-based leadership training! Get your tickets Today!
To learn more about the special programs check out:
Cornhusker Bills FB page https://www.facebook.com/Cornhusker-Bills-Wild-West-Show-621753141356755/
Joey Dillion https://www.joeydillon.com/