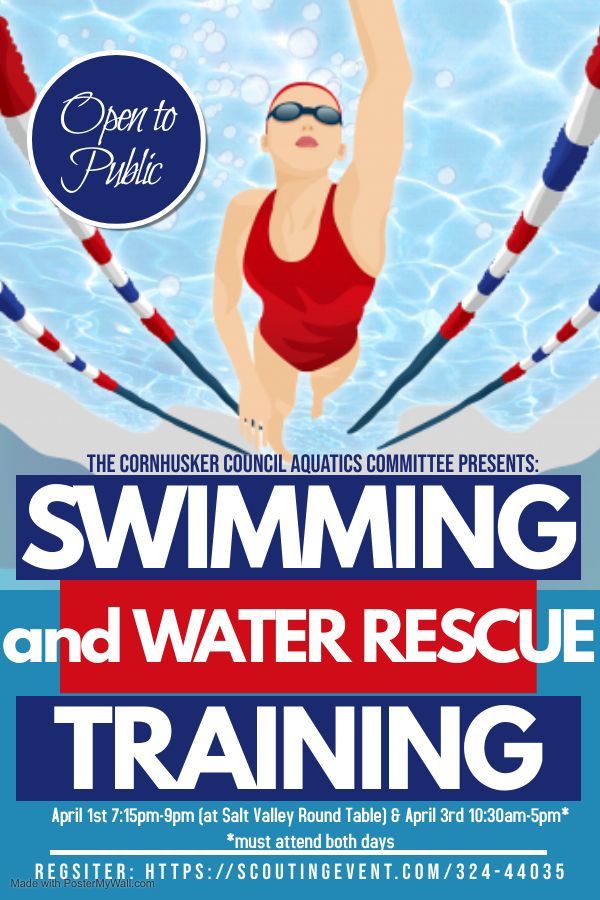 Scouts BSA Swimming & Water Rescue – April 1, 2021 (7:15 to 9:00 pm at the Salt Valley Boy Scout Roundtable) and April 3, 2021, 10:30am to 5pm.
Locations:
Thursday, April 1: Virtually via Salt Valley District Roundtable (Scouts BSA breakout room)
Saturday, April 3: Northeast YMCA, 2601 N 70th St, Lincoln, NE 68507.  Will also include Camp Cornhusker aquatic staff who will participate in the pool time as in-service using the same training program.
Training for BSA Swimming & Water Rescue provides BSA leaders with information and skills to prevent, recognize, and respond to swimming emergencies during unit swimming activities. It expands the awareness instruction provided by Safe Swim Defense training. Persons completing the training should be better able to assess their preparation to supervise unit swimming events. The BSA recommends that at least one person with this training is present to assist with supervision whenever a unit swims at a location that does not provide lifeguards. This training is open to any registered adult leader, Scout, Venturer, or Explorer who is age 15 or older.  The course takes approximately eight hours and is valid for three years. 
Click here to sign up:  https://scoutingevent.com/324-45074