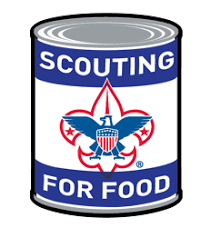 Scouting for Food
Scouting for Food is an annual food collection orchestrated by Scouts from Cornhusker Council. Local Scouts distribute door hangers across their towns and return to pick up the food items one week later. Collected food is distributed to needy families throughout the communities of the Council.
Cub Scout packs, Boy Scout troops, and Venturing crews throughout the Council will be distributing Scouting for Food donation door hangers in local neighborhoods. They return to collect those items one week later.
The 2019 Scouting For Food Campaign Dates
April Roundtable - Pick up door hangers (or pick up anytime at the Scout Shop)
Sat, April 18 - Deliver door hangers to homes throughout your town.
Sat, April 25 - Pick up food donations or adopt a Hy-Vee to solicit donations at the storefront
You can also sign up online to take donations at one of the 5 area Hyvee's. 
Visit https://www.cornhuskercouncil.org/s4f/page.html to sign up