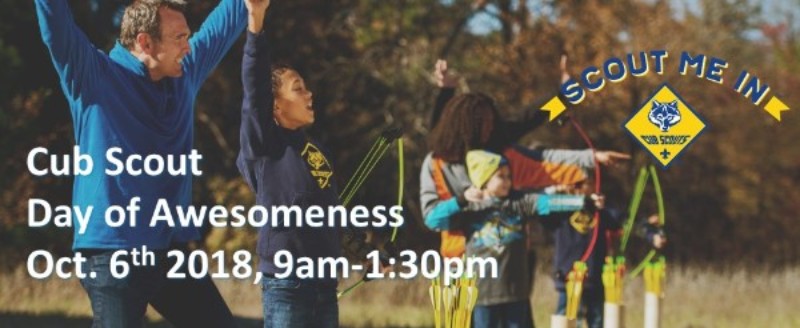 Update 10/6/18: The weather is holding out, so Day of Awesomeness will take place as planned!
What is it: The Cub Scout Day of AWESOMENESS is an opportunity for Cub Scouts (K-5th grade) and their families to start the year off with a fun outdoor event each fall. New and existing Cub Scouts are invited to come. New Lion Scouts (kindergarten) are invited to a special Lion area at Cub Scout Day Of Awesomeness.
Saturday, October 6th, from 9:00am – 1:30pm.  This is an open schedule please come anytime between these hours.  Please expect to spend approximately 2 hours.
Parking will be at the Southeast Community College located at 8800 O St, Lincoln, NE 68510.  A shuttle will be provided to the Cornhusker Council, Outdoor Education Center for the activities. The shuttle will be running the entire time of the event, so you can come and go at your leisure.
A parent or guardian must accompany and be responsible for each Cub Scout and other family members for the entire event.
$5 per youth. New Scouts that fill out a membership application and money and are submitted to the Council on the night of their recruitment event will get vouchers for free entry. Payment in cash or check with checks made payable to Cornhusker Council only. No credit cards. No pre-registration is necessary. Registration Cards will need to be filled out to enter.
This is a "rain or shine" event. In case of severe weather, visit the Cornhusker Council Website, CornhuskerCouncil.org or visit us on facebook or twitter.  #CubScoutAwesome
Contact: Will Cover at William.Cover@Scouting.org or 402-413-9211
2017 Highlight Video