Big Idea

Leading—it's what Scouting has always been about. Striving to make a difference for the betterment of youth and the communities we call home. Focused on preparing Scouts to become better people and meaningful contributors to society—feeling better about themselves and the world around them. Some say its old fashioned values put to work.
We've called it The Big Idea—a collaboration between businesses, community leaders and Scouting to make a significant impact to our community that will have a long-term positive effect. It begins with Scouts across the Cornhusker Council participating in community service, camping and activities at Arbor Lodge State Park and Big Idea Celebration the weekend of April 20th, 2018 featuring Steven Jackson.
---
About special guest, Steven Jackson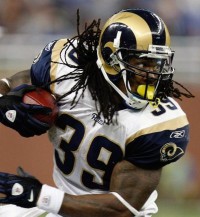 For more than a decade as one of the NFL's premier running backs, Steven Jackson has been known for his unsurpassed drive to succeed, his leadership and his dedication to his team and community. These are the same qualities that Steven wants to be defined by when his playing days end as an entrepreneur, businessman and philanthropist.
During his NFL career, Steven has showcased a wide variety of talents off the football field. He pioneered and produced some of the most forward-thinking, football-based series on the Internet. He cultivated his own interest in art, which culminated in his own art show at one of Los Angeles' most prestigious galleries in the summer of 2014. In addition, Steven worked in guest roles as an on-air commentator and analyst for ESPN, NFL Network and others.
An avid traveler, Steven has visited a vast number of countries, documenting his journeys through his own photography. He studied architecture while at Oregon State University, and remains actively interested in the subject.
Steven lives in Las Vegas, Nevada, the city where he was born and raised.
Big Idea News