Membership Recruitment and Retention
A great marketing campaign combines powerful imagery and a consistent message. This year we are excited to showcase the "Build an Adventure" recruitment campaign. "Build an Adventure" marketing materials include fliers, posters, web banners, custom emails, social media images, postcards, and much more.
Additional resources are available on the Marketing and Membership Hub.
Populate your BeAScout Pin
BeAScout is an online portal for prospective new families to find out about Scouting programs in their neighborhoods. Simply go to BeAScout.org and type in your zip code to find the closest Scouting in your area. Unit leaders should be populating their "unit pin" in order to display the most accurate information. To edit your unit's pin look under Legacy Tools on My.Scouting.org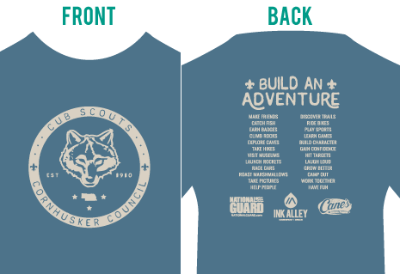 Free Shirt for New Members
The free t-shirts are available to any new Cub Scouts (including lions) that joins with submitted applications between now and Oct. 5th.  Any adults or units that would like additional shirts may order some those orders are due on Oct. 5th (Roundtable). The t-shirts are exchanged for completed and paid applications; not a promise. The shirts will be checked out to each unit. Shirts and applications are due back to the district staff within 48 hours of the recruitment event.
Membership Resources
Online RegistationInstruction on how to use the online registration system. Members can fill out the registration form online, but your unit needs to have it setup.

Scout Spirit Week (September 11-17)Ideas to show your spirit and promote your unit. In honor of National Constitution and Citizenship Day (September 17th), all Scouts are encouraged to honor our Country.

Cub Scout Fall T-shirt Order FormNew Scouts get the shirt free and do not need to order them. If you would like to purchase more shirts for your pack or family please use this form.
Cub Scout
---
Promotional Resources
Marketing for School Night is most effective when it utilizes multiple platforms. Whether it's coverage in your local newspaper or an online recruitment campaign, packs should take advantage of every opportunity to promote themselves. 
Resources provided by Council

Lots of resources are provided by the Cornhusker Council for your use. Please work with your district staff to secure them. Items include: yard signs, posters, flyers, buddy cards, temporary tattoos, bookmarks and more.
Boy Scout
Venturing