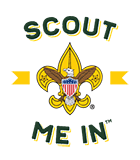 The National Executive Board of the Boy Scouts of America last year made a unanimous decision to welcome girls to our iconic programs, based on feedback from our community and an understanding that the character and leadership qualities our programs develop grounded in the Scout Oath and Scout Law are as relevant and helpful for girls as they have been for boys.
Starting in 2019, we invite our chartered partner organizations to choose if they'd like to establish a new all-girl troop which could operate completely separate from an all boy troop or work in cooperation with each other.
Although the opportunity for girls to form a Scout troop will officially launch in February of 2019, we are offering an opportunity to learn and start the planning process so that we are ready to meet the demand after the first of the year.
Wednesday, Sept. 12th, 7pm
at Cornhusker Council Service Center
600 S 120th Street, Lincoln, NE
Topics Covered include:
Why are we making this change to invite girls into the iconic programs
What is Scouts BSA
Myths vs Facts
How middle and high school-aged girls able to participate and go on to earn Eagle
How to start a Scouts BSA Troop
How are we working to protect our youth
What other items are changing or not changing
Your Questions