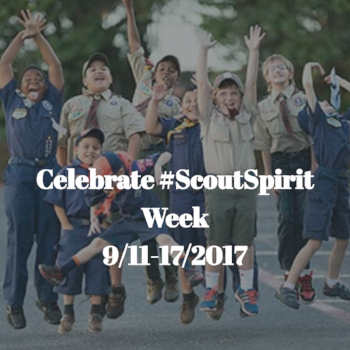 The Cornhusker Council is happy to announce a Council wide Scout Spirit Week! In honor of National Constitution and Citizenship Day (September 17th), all Scouts are encouraged to honor our Country.
Here's how to celebrate #ScoutSpirit week:
1. Scouts and Leaders wear your uniform to School or work and don't forget to take a photo to share with your favorite school administrator, teacher or coworkers. Share these on social media using #ScoutSpirit
2. Provide a Flag Ceremony for School, PTA, Football game or any other public venue. Don't miss out the opportunity to teach others what you have learned in Scouting; such as how to fold a flag. Keep it short and fun. Don't forget share your fun with others.
3. Share about your Scouting adventures at Church or Sunday School.
4. Present an assembly at your School on the American Flag or the Constitution. Don't forget keep it simple, fun and share with others.
5. Work with your Scouting professionals to promote an upcoming Scout event using: posters, flyers, invitations, buddy invitations, social media, and best of all your voice.
6. Share your Scouting stories with friends or coworkers. It starts like this "What did you do this weekend… I went (camping, hiking, shooting bb) with the Scouts.
Most of all show and share your Scout Spirit with others! We want to see your best pics, videos or stories on the web using #ScoutSpirit!