Trail to First Class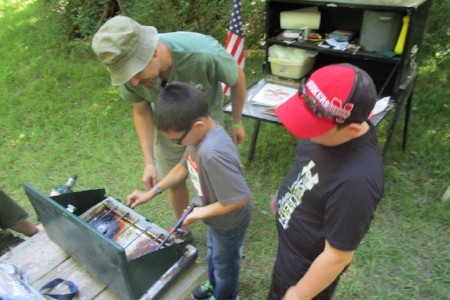 Trail To First Class (TTFC) is a premier program for first year Scouts. The Camp Cornhusker program is renowned across the mid-west as a premier program for first year Scouts. This first year, hands on program gives youth the best foundation for their Scouting future. Always send your first year child to TTFC no matter where the other Scouts go to camp. Ask anyone that has been through the TTFC, they will tell you it is the best!
The Camp Cornhusker Trail to First Class is the greatest program you will find for your first year Scout. From Troop meeting to Patrol meeting, led by trained adult leaders, the classes teach the meanings of the law. Each Scout learns to explain every law to their leaders. They learn to use a knife; hatchet, saw to make tinder, and kindling to start the fire with flint and steel for their breakfast of bacon, eggs and toast that each youth will cook themselves. They learn their knots and build a useful camp gadget with lashings. They learn how to use a compass and go on compass courses both during the day and also at night. They also do their five-mile nature hike. They learn how to tell directions with a watch and to put a stick in the ground for direction. The night skies tell them directions also. This is all hands on, not sitting and listening to lectures for a week. The children are busy doing and learning.
We cover most all the requirements for the Trail to First Class. Swimming and First Aid merit badges are available in the afternoon. No other camp delivers this great program like Camp Cornhusker. We are the innovators of this particular delivery method. Our Trail to First Class Program is imitated but not duplicated.