Mountain Man Program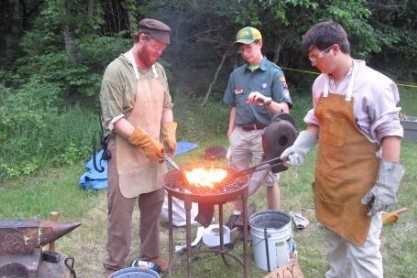 Camp Cornhusker has a wonderful Camp Loyalty and Youth Growth Retention Program Called "Mountain Man". We hope to accomplish two things. First, to create a true sense of Loyalty to Camp Cornhusker and the High Ideals of Scouting, Outdoor Program and Heritage for which it has stood since the camp's creation in 1956. Second, to Prepare Youth to become Leaders of vision and dedication who will continue the work of those who first took up Scouting's mantle and formed the Cornhusker Council and its Camps and Properties.
Please refer to the separate Mountain Man Guide for full details on the program and all its meaning. This guide also includes the instructions for making sure your youth are properly recognized.
The GEE GAW is the recognition part of the Mountain Man Program and designates the achievements of both Scouts and leaders at camp.
Year at Camp, Mountain Man Rank, Gee Gaw Recognition
Year 1, Pioneer, Blank Hide Gee Gaw
Year 2, Explorer, Gee Gaw receives Mountain Stamp
Year 3, Frontiersman, Gee Gaw receives Crossed Rifles Stamp
Year 4, Voyager, Special Black Bead
Year 5, Mountain Man, Special Silver Bead
Year 6 & up, Council of Wisdom, Special Glass Bead
Adults are invited as well by accepting the responsibility to provide Adult Leadership for a portion of the outpost program as they are able, and will be offered the opportunity to enroll in the Adult Camp Cornhusker Benevolent Support Society "The Long Tooth Circle".