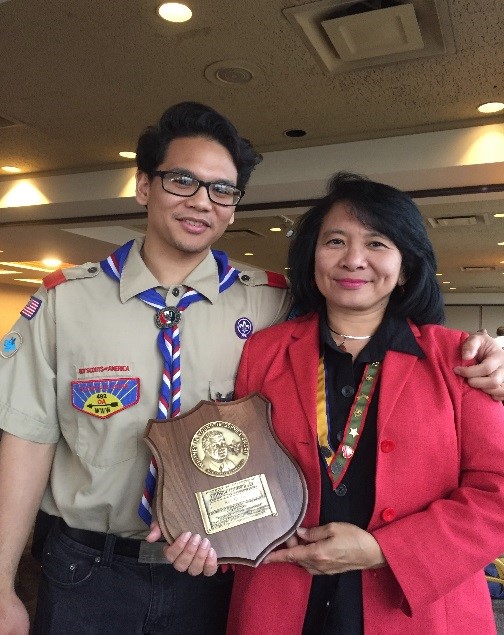 At the Cornhusker Council Annual Meeting and Recognition event Roz Hussin was recognized for her involvement with and leadership to the ScoutREACH program.
The Whitney M. Young Jr. service award recognizes outstanding service by an adult individual or by an organization for demonstrated involvement in the development and implementation of Scouting opportunities for youth from rural or low-income urban backgrounds.
Roz Hussin, has been involved in scouting for the past 11 years. She has two UNL Eagle Scout son's and still an active volunteer with Troop 30. Roz quotes, "I attribute my involvement in Scouting and this award to Troop 30. I am indebted to the leaders of Troop 30, for their unrelenting support, their unselfish investment of time and energy, and their incredible faith and trust in humanity. My family would not have survived our transition moving to Lincoln 11 years ago, if not for them."
Roz has been an impact to the ScoutREACH program by connecting UNL college students in the service learning program to provide their services for volunteering as club leaders. She has also provided the ScoutREACH Executive with many ideas on improving the program and different opportunities to the youth.
We congratulate Roz Hussin as the recipient of the Whitney M. Young Jr. Service award. We appreciate Roz's service and involvement to the Boy Scouts and the ScoutREACH program.
To learn more about the ScoutREACH program please contact Akeem Holmes 402-413-9208 or akeem.holmes@scouting.org.