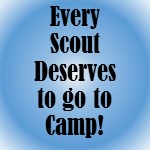 Camperships are developed to help provide life-changing camping experiences for Scouts who, because of financial challenges, may not otherwise be able to attend one of the camps or events. Contributions are sought after with an emphasis on making sure every Scout has the chance to go to camp, changing their lives through recreation, friendship, and experiences which will cultivate skills and values needed for success in the future.
We urge your assistance in applying for camperships for youth who could not attend camp without financial assistance.
In keeping with the philosophy of "pay your own way", each youth should pay a portion of the fee. Camperships are awarded based primarily on need. The more information the campership committee has about the Scout's particular need, the better.The Council also reserves the right to consider the unit's participation in Council administered product sales as demonstrating a concerted effort to raise these funds. The family and unit should also contribute to the cost of the camp experience.
Download the from to learn full details. The deadline for full consideration is April 15, 2017.
Campership Form 2017
Fillable PDF Campership Form 2017